Douglas Academy is a Canadian Training Centre, based in Mississauga, Ontario. Our after school programs focus on teaching children science and technology. Our goal is educating children about recent inventions in a fun and engaging way so they can transform ideas to useful products and services and be prepared for the world of tomorrow!
We aim to make a real change in the Canadian society by encouraging children to experience and experiment with STEM (Science, Technology, Engineering, and Mathematics).
Along the way, children will learn how to build a robot and they will learn to code. Our Robotics and Coding workshops are dedicated to providing a fun and engaging place for kids to learn!
Provide unique experiences that motivate and engage children and empower future generation to graduate ready for college, careers, and life in a global economy. We Accomplish Our Mission in an After School Program That Teaches Robotics, Coding and Game Programming with affordable fees.

Currently we are serving society from 3 locations in Mississauga and 1 location in Brampton with a plan to open more locations within Mississauga and GTA during the next few years. We aim to provide a service with affordable fees to families and children.
Vote for new locations here
Our Current Locations:
Heartland, Mississauga:
5187 Fallingbrook Dr, Mississauga, ON L5V 1N7

Churchill Meadows, Mississauga:
3675 Thomas St, Mississauga, ON L5M 7E6
GET FRANCHISE INFO
Erin Mills, Mississauga:
3240 Erin Centre Blvd, Mississauga, ON L5M 7T9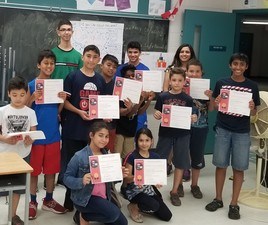 Mount Pleasant, Brampton:
50 Parity Rd, Brampton, ON L6X 5M8