Douglas Academy is a Canadian Training Centre, based in Mississauga, Ontario. Our after school programs focus on teaching children science and technology. Our goal is educating children about recent inventions in a fun and engaging way so they can transform ideas to useful products and services and be prepared for the world of tomorrow!
We aim to make a real change in the Canadian society by encouraging children to experience and experiment with STEM (Science, Technology, Engineering, and Mathematics).
Along the way, children will learn how to build a robot and they will learn to code. Our Robotics and Coding workshops are dedicated to providing a fun and engaging place for kids to learn!
Provide unique experiences that motivate and engage children and empower future generation to graduate ready for college, careers, and life in a global economy. We Accomplish Our Mission in an After School Program That Teaches Robotics, Coding and Game Programming with affordable fees.

Currently we are serving society multiple locations in Mississauga and Brampton with a plan to serve more cities and neighbourhoods during the next few years. We aim to provide a service with affordable fees to families and children.
Vote for new locations here
Our Current Locations:
Heartland, Mississauga:
5187 Fallingbrook Dr, Mississauga, ON L5V 1N7

Churchill Meadows, Mississauga:
3675 Thomas St, Mississauga, ON L5M 7E6
GET FRANCHISE INFO
Erin Mills/ Erin Centre, Mississauga:
3240 Erin Centre Blvd, Mississauga, ON L5M 7T9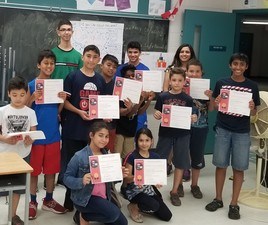 Brampton West:
45 Daviselm Drive, Brampton, ON L6X 0E6